Enjoy Stainless and Fresh Carpets With our Wandsworth carpet cleaning service SW8
Carpets are the hardest things in the world to clean on your own, and using the wrong products can wreak havoc, making a small stain into a big problem! It's also very frustrating if someone has spilt something on your carpet and you can't for the life of you get it out. The good news is that there is no need to fret and panic. If you call Cleaners Wandsworth you will receive timely assistance from the best Wandsworth carpet cleaners available. Contact us today on 020 3743 8245 with details of the cleaning service you need and we will happily oblige.

There are many people who use our carpet cleaners SW11 including home owners wanting their living room and bedroom carpets to be freshened, tenants and landlords hoping to get rid of any unwanted stains from spillages, and businesses hoping to give their premises a good spring clean ready to welcome their customers. Whatever your needs and aims, Wandsworth cleaners SW8 don't come better than ours and we bring all the products and machines we need to make your carpets cleaner than you could ever imagine so call us today on 020 3743 8245 to get the process started!
Carpet Cleaning Services in Wandsworth SW8 at Pocket-friendly Prices
Our cleaning team bring top of the range carpet cleaning machines to any address that we are called out to, and with this cutting edge technology, we are more than a match for any spaghetti or red wine stains that you may have had the misfortune to encounter. Our methods are assisted by the use of effective solvents that are tested against the most delicate fabrics, and whilst not harmful to skin, or anybody with allergies, they are immensely good at reducing and vanishing unpleasant stains and marks. Deep steam cleaning is also part of our portfolio and is often highly effective in loosening up any older stains.

We can help you minimise the effect of depressions and worn areas, which happens frequently in offices when people walk up and down all day, and sometimes in the home when you've been a bit heavy footed going up and down the stairs. We will use a number of techniques to help you get your carpet back to a presentable and even state, and it might even look better than it did when you bought it!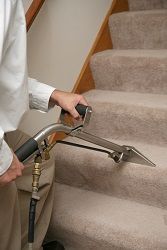 Wandsworth Carpet Cleaners Can Handle with Any Kind of Stains
You can call on our SW8 carpet cleaners at any time of day as we are able to come to many addresses at relatively short notice, whereas with other SW18 cleaners you normally have to book well in advance. Late hours are not a problem for our Wandsworth cleaning services, especially as we normally need you to be home in order for us to get the cleaning equipment into the property. Similarly, we are available during weekends and early mornings if any of these time periods suit you best – just call us with details of the work you need us to do on 020 3743 8245 and we'll do our very best to accommodate you.

Cleaners Wandsworth stands out as one of the most prominent providers of SW11 domestic cleaning and office cleaning and our carpet cleaners are the best value in the whole of London! We are more than happy to give you a sample of our work if you would like to try us out, and we'll quote you within very reasonable bounds to help you keep your costs limited as far as possible. If you have several rooms to do, then we have the flexibility to offer discounts and give you a cheap cleaning quote which you won't be able to find from other SW18 cleaning companies.

Remember that we use approved and environmentally-safe products and solvents to clean carpets, paying close attention to manufacturers' guidelines and trading standards. If you have any other questions feel free to contact our customer service line today.